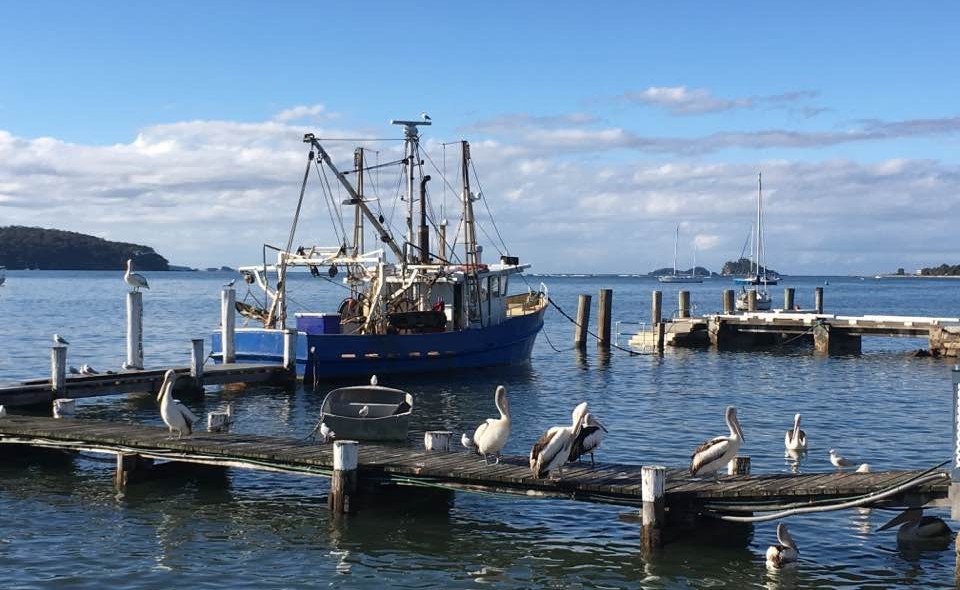 If there's ever a spare Defender available for the weekend one of our favourite trips is a bit of a burn down the NSW South Coast. Not only is it filled with awesome coastal scenery, but some of the best little towns to stop in along the way. One of our favourites is one of the shiniest jewels of Eurobodalla's Sapphire Coast – Narooma. Narooma is your typical seasonal, coastal town. 4.5 hrs down the coast from Sydney, it's a great spot to visit on an East coast adventure or to stop for supplies, particularly if you want to avoid the hustle and bustle of Batemans Bay.
Narooma is big on commercial and sport fishing and also home to the region's Oyster Festival which runs in May each year – book it in! So if you're into your fishing, ask a local what's running and they'll point you in the right direction. If you don't catch anything, The Bridge Oysters just as you come into town is a smorgasbord of local seafood. It's a family run business (owner, Sophie is Narooma's oyster shucking champion representative!) and there is always local seafood available. If you are REALLY into your fishing, there are a number of deep sea fishing tours that head out for groups and individuals and are perfect for a little day trip. You can also head out and take a tour of Montague Island, a protected nature reserve, home to colonies of Australian fur seals, little penguins, dolphins and depending on the time of year you might even catch a few cheeky whales hanging about! Montague Island is a big tourist pull for the town and is well worth the trip if you're in the area for a few days.
We love finding a great coffee shop on the road, and if you're in need of a good coffee then Bound to Earth is the place for you! Run by awesome local chick, Khobi, Bound to Earth is all about local produce and sustainability. If you're there first thing in the morning you might have to queue with all the tradies (a sure sign of good coffee!) as they grab a toastie and a Cappucino before work. Khobi makes legendary toasties, with the rest of the menu seasonal and equally awesome. Everything from milk and bread to eggs and vegetables are all sourced locally by Khobi so if you care where your food comes from, this place is for you! If you're lucky enough to be at the shop when there's a Cinnamon and Cardamon scroll left – BUY IT IMMEDIATELY! They're made fresh and local and are worth the drive to Narooma just to get your hands on one!
Like a lot of small towns, there's no shortage of places to get a cold schooner in Narooma! If you're looking for some traditional Pub Grub and a killer view then head to O'Brien's Hotel (aka The Million Dollar view). The Raw Prawn Bistro does a mean Schnitty and for a small town they have some excellent beers on tap! If you're after something a little more low key and local then head up the hill to Lynch's Hotel you can't miss it – it's turquoise! A solid watering hole for locals, Lynch's kitchen has all the usual meals and if you're on a budget, their daily lunch specials are cheap and awesome!
There's plenty of caravan parks to stay the night and set up camp – we recommend the Surf Beach Holiday park because of its friendly owners and beachfront access, perfect for a morning surf – however if you're looking for something a little more secluded there are an abundance of National Parks sites both North and South of Narooma. You can stop in at the Narooma visitors centre for a map or better yet, have a yarn with a local and find out their favourite spot, our's is Brou Lake Campground so don't be surprised if you rock up and see another Bear there!
Narooma Bridge Oysters – 12 Riverview Rd, Narooma
Bound to Earth – 6 Noorooma Cres, Narooma
O'Briens Hotel – 101 Campbell St, Narooma
Lynch's Hotel – 135 Wagonga St, Narooma
Narooma Surf Beach Holiday Park – Ballingalla St, Narooma